●Overview
Hallohallo Inc., the operating company of Hallo Hallo Mall, which was opened in April 1st 2012 and successfully grown into Philippines' largest B to B to C type international mall, has launched a project of attracting numerous Japanese companies leading in various fields, to form business unions in diverse fields, through moderate capital tie-ups and business tie-ups, in order to establish itself as the center of social infrastructure in the Philippines.
●Purpose
In a horizontal-type interconnected network, many organizations and individuals form a strong alliance based on the philosophy of "harmony, balance, and Yamato" from a mutual understanding of identity and jointly accomplish this mission as the Hallo Hallo Alliance.
●Mission
To construct social soft infrastructure, realization of a society that contributes to mutual understanding, growth, and development of the Philippines and Japan, as well as realization of a society in which efforts are equally rewarded.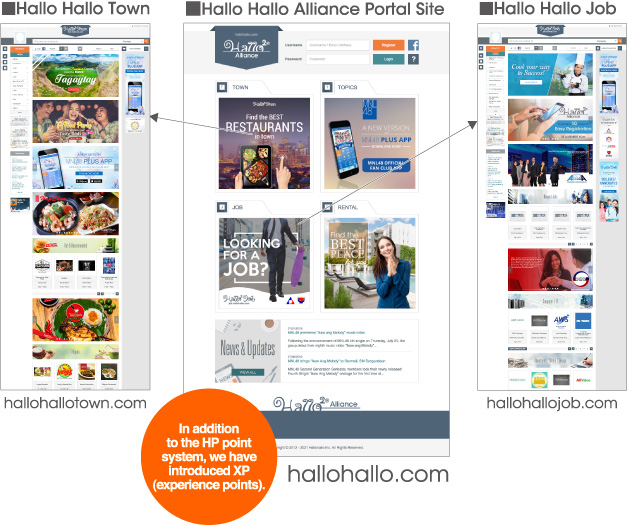 ■ The XP (Experience Points) and HP (Hallo Hallo Points) Level-up systems
Users can earn XP through games and events. It is possible to level up by winning a certain number of XP, thereby receiving a variety of benefits. HP is our general point system that can be used in shopping of goods and purchasing coupons at any Hallo Hallo website. 1HP is equivalent to 1 peso.
Hallo Hallo Alliance owns websites, namely: Hallo Hallo Town - a service sector index, Hallo Hallo Job - a free-of-charge company index and job posting site.
All the sites provide unique contents for our role-playing game system, and together comprise a comprehensive web services ecosystem.
■ Avatars
Create your own avatar. Play and visit our websites to level up and further customize your avatar.
■ Mini Games, Games Corner
A variety of mini-games such as the double-up points game and the treasure chest game appear while browsing content. games corner has been established to provide a mechanism to increase visit frequency to the websites by giving XP rewards within the games.